Sweet Madness
by
Trisha Leaver
and
Lindsay Currie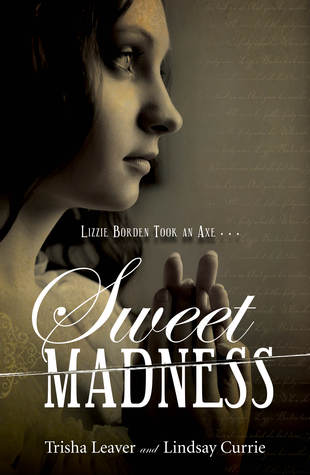 Format: 
Paperback/ ARC
Published:
 Sept. 18th 2015 by Merit Press
Genre:
 Historical Fiction/ Thriller, Young Adult
Amazon
|
Kindle
| 
Book Depository
  |
B&N
 |
Nook
"Seventeen-year-old Bridget Sullivan is alone in Fall River, a city that sees Irish immigrants as nothing more than a drunken drain on society. To make matters worse, she's taken employment with the city's most peculiar and gossip-laden family—the Bordens. But Bridget can't afford to be picky—the pay surpasses any other job Bridget could ever secure and she desperately needs the money to buy her little sister, Cara, passage to the states. It doesn't hurt that the job location is also close to her beau, Liam. As she enters the disturbing inner workings of the Borden household, Bridget clings to these advantages.

However, what seemed like a straightforward situation soon turns into one that is untenable. Of course Bridget has heard the gossip around town about the Bordens, but what she encounters is far more unsettling. The erratic, paranoid behavior of Mr. Borden, the fearful silence of his wife, and worse still…the nightly whisperings Bridget hears that seem to come from the walls themselves.

The unexpected bright spot of the position is that Lizzie Borden is so friendly. At first, Bridget is surprised at how Lizzie seems to look out for her, how she takes a strong interest in Bridget's life. Over time, a friendship grows between them. But when Mr. Borden's behavior goes from paranoid to cruel, and the eerie occurrences in the house seem to be building momentum, Bridget makes the tough decision that she must leave the house—even if it means leaving behind Lizzie, her closest friend, alone with the madness. Something she swore she would not do.

But when Bridget makes a horrifying discovery in the home, all that she thought she knew about the Bordens is called into question…including if Lizzie is dangerous. And the choice she must make about Lizzie's character could mean Bridget's life or death.

SWEET MADNESS is a retelling of the infamous Borden murders from the point of view of Lizzie's Irish maid, Bridget Sullivan." -Goodreads
Review:
"Everybody in Fall River had a bit of gossip to prattle on about whenever it came to the Bordens."
(pg. 31)
A thrilling young adult historical fiction, Sweet Madness takes on the tale of Lizzie Borden. Told through the perspective of the Bordens' house maid Bridget Sullivan, this reimagining puts a wondrous spin on an age old mystery.



"The house I was working in was filled with crazy people, and everyone in Fall River knew it...including me." (pg. 93)



Sweet Madness really grabbed me as it peaked my interest and love for thrillers and historical fiction. I didn't want to put the book down, and found myself thinking about it when I wasn't around the book. I guess I wanted to know if she did it! It was also the suspense of actually waiting for the crime to happen that had me staying up all night reading. Sweet madness had a lot of factual historical references that I learned from as well, about the mysterious Borden's. The only fault I could find with the plot is that it felt like the authors, after taking a while to build up, got tired of waiting for the climax as well, and the ending felt very rushed. It was like the hook was 99% build up and 1% conclusion. I very much liked the build up with suspense, but would've felt more satisfied if the thrill of the crime lasted maybe a few more chapters.
----------
Galley provided by A Giveaway Winning via Author Lindsay Currie
*Quotes are from uncorrected advanced galleys and may change before going to press. Please refer to the final printed book for official quotes.