A Whole New World (Twisted Tales #1)
by Liz Braswell
Official Site | Goodreads | Twitter | Facebook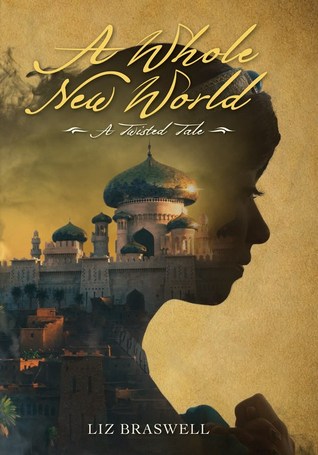 Format:
Kindle/ ARC
Published:
 Sept. 1st 2015 by Disney Hyperion
Genre:
 Fantasy/ Retelling, Mid-grade & Young Adult
Amazon
|
Kindle
| 
Book Depository
  |
B&N
 |
Nook
"Welcome to a new YA 

series that reimagines classic Disney stories in surprising new ways. Each book asks the question: What if one key moment from a familiar Disney film was changed? This dark and daring version of 

Aladdin

 twists the original story with the question: What if Jafar was the first one to summon the Genie?  




When Jafar steals the Genie's lamp, he uses his first two wishes to become sultan and the most powerful sorcerer in the world. Agrabah lives in fear, waiting for his third and final wish.To stop the power-mad ruler, Aladdin and the deposed Princess Jasmine must unite the people of Agrabah in rebellion. But soon their fight for freedom threatens to tear the kingdom apart in a costly civil war.

What happens next? A Street Rat becomes a leader. A princess becomes a revolutionary. And readers will never look at the story of Aladdin in the same way again." -Goodreads
Review:
"I mean," Jafar said, drawling his words, "your reign. Has come. To an end. And mine is beginning."
-Loc. 736
A retelling of Aladdin, A Whole New World tells the tale of what would happen if Jafar got ahold of the lamp and genie instead.
While I was initially shocked and appalled at how the first 23% of the book was word for word and action for action exactly like the Disney movie, I've gotten over it. I've realized that the author did this to re-familiarize the target audience with the classic to better set them up for the plot twist, and that since Disney is the publisher of which they obviously didn't have a problem with it, why should I? I do, however, wish the author took a little bit more creative freedom with this task.
When the twisted tale finally started to happen, my interest increased as more suspense kept me pinned to the story. It definitely took a dark turn, as it told of just how far an evil man like Jafar was willing to go. The question becomes not just how far will Jafar got with his three wishes, but can he find a way to break the Genie's rules and limitations?



"'Magic is only as great as the mind controlling it,'" Loc. 2264



Agrabah is going through many changes as they surge from a sultan who couldn't care less about them, to a sultan who would do anything for their devotion and allegiance. A war is brewing as Aladdin, Jasmine and the Street Rat army vow to take back their city from the vicious clutches of Jafar and his minions, but how can a measly pack of thieves fight against a tyrant sorcerer brimming with magic?



"'Nobody takes Agrabah from us. No devilish sorcerer and his dark arts. Not an army of them.'" Loc. 1534



I enjoyed reading this book, not only because it was thrilling and easy to read, but because it brought me back to my childhood of watching the Disney classic and singing along. It was fun to  see this story in a new light with a great twist, as it felt like Aladdin meets Assassin's Creed. I would recommend this story for middle-grade to young adults who like a little thrill and action with a familiar setting.
----------
Galley provided by Netgalley via Disney Hyperion
*Quotes are from uncorrected advanced galleys and may change before going to press. Please refer to the final printed book for official quotes.