A Thousand Nights
by E.K. Johnston
Official Site | Goodreads | Twitter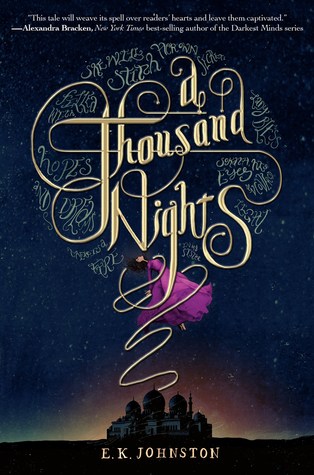 Format:
Kindle/ ARC
Published:
 Oct. 6th 2015 by Disney Hyperion
Genre:
 Fantasy, Young Adult
Amazon
|
Kindle
| 
Book Depository
  |
B&N
 |
Nook
"Lo-Melkhiin killed three hundred girls before he came to her village, looking for a wife. When she sees the dust cloud on the horizon, she knows he has arrived. She knows he will want the loveliest girl: her sister. She vows she will not let her be next.

And so she is taken in her sister's place, and she believes death will soon follow. Lo-Melkhiin's court is a dangerous palace filled with pretty things: intricate statues with wretched eyes, exquisite threads to weave the most beautiful garments. She sees everything as if for the last time.But the first sun rises and sets, and she is not dead. Night after night, Lo-Melkhiin comes to her and listens to the stories she tells, and day after day she is awoken by the sunrise. Exploring the palace, she begins to unlock years of fear that have tormented and silenced a kingdom. Lo-Melkhiin was not always a cruel ruler. Something went wrong.

Far away, in their village, her sister is mourning. Through her pain, she calls upon the desert winds, conjuring a subtle unseen magic, and something besides death stirs the air.

Back at the palace, the words she speaks to Lo-Melkhiin every night are given a strange life of their own. Little things, at first: a dress from home, a vision of her sister. With each tale she spins, her power grows. Soon she dreams of bigger, more terrible magic: power enough to save a king, if she can put an end to the rule of a monster." -Goodreads
Review:
"There will be no heir. I will not pay that price for them. I am finished with the laws of men. I will find another way."
(loc. 1482)
A Thousand Nights was filled with beautiful writing, an enchanting setting and bountiful dreams.



"I had never heard of a person who dreamed the future while they still lived." (loc. 712)



I thought this book had such great promise, and thus I had high hopes, but unfortunately these hopes fell flat. I personally could not get past the slow building plot, once I figured out what the plot was, and the ending was a bit anticlimactic. I also wish I could have gotten to know the main character on a more personal level, other than just the constant stories she told of her upbringing and family.



"They sensed that they could hide in my shadow, my purple oasis, and perhaps be safe." (loc. 127)



I did, however, enjoy the writing style as it took on a storytelling vibe quite similar to that of Neil Gaiman and Khaled Hosseini. I was in awe of the setting, as I envisioned an enchanting desert and oasis, filled with people of high faith and bustling tradition.
In all, although I quite enjoyed the writing and it's storytelling fluidity, I wish the plot was more developed and that there was some sense of suspense, thrill or mystery to drive the story. Based on the writing style, I would say I'd definitely be interested in reading more from the author, so long as I find the plot interesting.



"She did not die, and I wondered if I might at last have found a queen form whom I could set the desert on fire." (loc. 1152)



----------
Galley provided by Netgalley via Disney Hyperion
*Quotes are from uncorrected advanced galleys and may change before going to press. Please refer to the final printed book for official quotes.