Hosted by Breaking the Spine
 Spotlighting upcoming releases that I'm eagerly anticipating!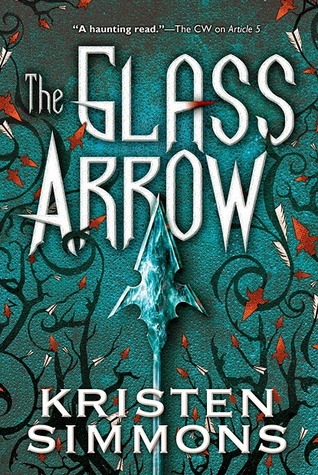 The Glass Arrow by Kristen Simmons  to be released Feb. 10th 2015
"In the vein of The Handmaid's Tale, a haunting, yet hopeful, stand­alone novel from the author of the Article 5 trilogy

The Handmaid's Tale meets Blood Red Road in Glass Arrow, the story of Aya, who lives with a small group of women on the run from the men who hunt them, men who want to auction off breeding rights to the highest bidder.

In a world where females are scarce and are hunted, then bought and sold at market for their breeding rights, 15­year old Aya has learned how to hide. With a ragtag bunch of other women and girls, she has successfully avoided capture and eked out a nomadic but free existence in the mountains. But when Aya's luck runs out and she's caught by a group of businessmen on a hunting expedition, fighting to survive takes on a whole new meaning." -Macmillan Tor Teen Winter 2015 Catalog
---
Dream a Little Dream
by Kerstin Gier to be released Jan. 6 2015
- I positively LOVED the Ruby Red Trilogy and can't wait to read more from Kirsten Gier!
"A new trilogy brimming with mystery, humor, and romance from New York Times–bestselling author Kerstin Gier!

Liv has been dealing with a lot lately. She and her family have just moved in with her mother's new boyfriend in London, and she's starting over (again) at a new school. But Liv isn't sure that explains her dreams, which have gone from odd to...well, bizarre. Lately, her nighttime hours have been filled with talking stone statues, mysterious corridors, and creepy rituals conducted by four boys in a graveyard.

The strangest part is that Liv recognizes the boys. They're classmates from her new school, and they seem to know things about her that they couldn't possibly know...unless they actually are in her dreams? Luckily, Liv never could resist a good mystery, and all four of those boys are pretty cute..." -Macmillan Winter 2015 Catalog