MARY: The Summoning (Bloody Mary #1)
by Hillary Monahan
Official Site | Goodreads |  Twitter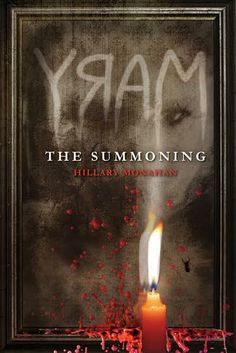 Format: Kindle/ ARC
Published: Sept. 2nd 2014 by Disney-Hyperion
Genre: YA, Horror/Thriller
Amazon | Kindle | Book Depository
"There is a right way and a wrong way to summon her.

Jess had done the research. Success requires precision: a dark room, a mirror, a candle, salt, and four teenage girls. Each of them--Jess, Shauna, Kitty, and Anna--must link hands, follow the rules . . . and never let go.

A thrilling fear spins around the room the first time Jess calls her name: "Bloody Mary. Bloody Mary. BLOODY MARY." A ripple of terror follows when a shadowy silhouette emerges through the fog, a specter trapped behind the mirror.

Once is not enough, though--at least not for Jess. Mary is called again. And again. But when their summoning circle is broken, Bloody Mary slips through the glass with a taste for revenge on her lips. As the girls struggle to escape Mary's wrath, loyalties are questioned, friendships are torn apart, and lives are forever altered.

A haunting trail of clues leads Shauna on a desperate search to uncover the legacy of Mary Worth. What she finds will change everything, but will it be enough to stop Mary--and Jess--before it's too late?" -Goodreads
Review:
"A lightless mirror is a terrifying thing. There is no reflection only black glass. Like an abyss. It's endless and consuming."
(loc. 1194)
This creepy ghoulish series takes on the tale of Bloody Mary, and drives the legend even further than before. A few friends hanging around a bathroom, trying to summon a ghost, huh? What could possibly go wrong?



"I summoned her; I can dismiss her. She has to listen to my voice. That's how it works." (loc. 295)



I'm so in love with this plot, even if it scared the daylights out of me! The concept of four friends summoning a corpse ghost and then to be viciously haunted by it is simple yet terrifying. It may start off reading a bit middle-grade at first, but as it progresses, it really gets into a good, more mature, groove. Although the characterization initially lacked on the evocative side, the author does a grand job of setting the scene and putting Mary before us in all her ghoulish glory. It's the great descriptions or Mary and her methods of haunting and killing that really held my attention, as well as the mystery of how she got that way. How will they ever keep Mary from reaping more havoc when she slithers out just about everywhere at anytime? Mary doesn't just appear in mirrors anymore, oh no, that's old school. Now it's anything with a shiny surface; TV screens, windows, cars, doorknobs, you name it. Look around and think of how many places Mary could be lurking and stalking you right now. Are you scared yet?



"Anything plastic, anything glass, anything metal. Which was everything. Mary could be anywhere." (loc. 807)



Shauna and her friends go through a real test of friendship as they suffer through this terror. This alone will have the reader's emotions flying back and forth. More than a few times, I personally wanted to reach into the book and slap one of them *cough* Jess *cough* haha! I seriously need to find out what will happen with Mary and the haunted crew so you can bet I'll be waiting anxiously for the sequel! If you like horror, suspense, and a good historical mystery, this book is definitely up your alley.
"I am a creature born of injustice and fury."
(loc. 2425)
--
First Line: "Dear Constance, I regret to inform you that you are an abysmal sister." (loc. 20)
Last Line: "Bloody Mary. Bloody Mary. BLOODY MARY." (loc. 2431)
------
Galley provided by Netgalley via Disney-Hyperion
*Quotes are from uncorrected advanced galleys and may change before going to press. Please refer to the final printed book for official quotes.