Renegade (Mila 2.0 #2)
by
Debra Driza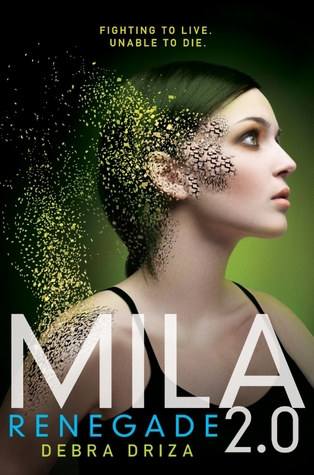 Blog 
|
Twitter
|
Goodreads
Format: Hardback, 438 pgs.
Published:

May 13th 2014 by Katherine Tegen / Harper Collins
"There is no one left for Mila to trust. Except for a boy she barely knows.





But Hunter has no idea who—and what—Mila really is. She can't bear to reveal her secret, even though he's unwittingly joined her search for Richard Grady, a man who may know more details of Mila's complicated past.





Yet the road to the truth is more dangerous than ever. With General Holland and the Vita Obscura scouring the earth for her whereabouts, Mila must rely on her newfound android abilities to protect herself and Hunter from imminent harm. Still, embracing her identity as a machine leads her to question the state of her humanity—as well as Hunter's real motives.



Perfect for fans of I Am Number Four and Divergent, this action-packed and heart-wrenching second installment of MILA 2.0 will leave readers breathlessly awaiting the series conclusion." -goodreads
Review
"In order to have the good, you had to also take the bad, because without the lows, the highs wouldn't, couldn't, exist. All emotions were crucial to living. All of them."
(pg. 425)
In this latest installment of the Mila 2.0 series, we find Mila trying to hunt down a link to her past, but as she runs away from Holland is she running towards more trouble? Renegade will bring a thrill as you travel with Mila and Hunter to find the truth of her origins, Vita Obscura, and what may be Mila's future.
"I couldn't live in the past, but I also couldn't have a future until I learned everything I needed to know about my past." (pg. 10-11)
Although Renegade began a bit slow for me (I'm not a mushy gushy romantic genre type,) I was excited when the pace was picked up around the fifth chapter, and suspense stepped in. I love how I kept wanting to read more and more as Mila traveled to find and retrieve files to her past. With a nation suspecting her of murdering her mother, Mila must keep on her toes and her tactics and skills as an android become quite handy. The only problem she has is getting control of her emotions, and with her constant paranoia, and trust issues, her problems bleed onto those who she wants to trust the most. Hunter plays an interesting role in this book, and I'm very pleased that he isn't just a romantic interest, but has an actual purpose in the plot. 
"This could be a brand new start, and I'd be stupid not to grab it with both hands." (pg. 377)
So many emotions are played throughout Renegade, and it had me guessing and suspecting until the end! Is Mila's paranoia justified? Is Holland really the enemy!? I was just feeling all kinds of way for Mila, and I truly just wanted people to treat her like a normal person with normal feelings! I hated seeing Mila's feeling get hurt over and over and I felt horrible to see that she hated her feelings as well. Maybe Holland was right all along to want to remove her emotions? You better read and find out!
"Ready for the new, improved Mila. Ready to stop hurting, once and for all." (pg. 394)
In all, I found that this book answered a lot of unanswered questions from the first book, yet presented quite a bit more. I love how the action played out and how upbeat it was! Was it worth her time looking for her past? With her mix of android parts and human cells, is she becoming more human... or the opposite? What's in Mila's future? There's so much to devour in Renegade, and you better hand on because Hoooooly Cliiiiiifhanger!! I need the next book pronto!!
"Life could go from beautiful to ugly in a fraction of a second." (pg. 63)
"There was something strange happening inside me that I didn't understand and couldn't control." (pg. 80)
First Line: "If I could record real-life moments in my head like a DVR, this afternoon would top the list as one of the most replayed." (pg.1)
Last Line: "I didn't want to die." (pg. 438)