The Falconer (The Falconer #1)
by Elizabeth May
Official Site | Goodreads | Twitter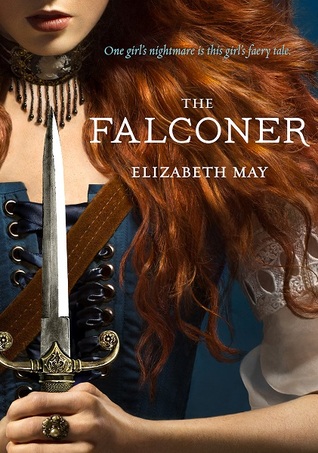 Format: ARC, paperback 378 pgs.
Published: May 6th 2014 by Chronicle Books
Genre: YA, Fantasy/ Historical/ Steampunk
Amazon | Kindle | Book Depository
"Heiress. Debutant. Murderer. A new generation of heroines has arrived.

Edinburgh, Scotland, 1844

Lady Aileana Kameron, the only daughter of the Marquess of Douglas, was destined for a life carefully planned around Edinburgh's social events – right up until a faery killed her mother.

Now it's the 1844 winter season and Aileana slaughters faeries in secret, in between the endless round of parties, tea and balls. Armed with modified percussion pistols and explosives, she sheds her aristocratic facade every night to go hunting. She's determined to track down the faery who murdered her mother, and to destroy any who prey on humans in the city's many dark alleyways.

But the balance between high society and her private war is a delicate one, and as the fae infiltrate the ballroom and Aileana's father returns home, she has decisions to make. How much is she willing to lose – and just how far will Aileana go for revenge?" -Goodreads
"It tells the tale of a girl who who had just lost her other and nearly died when she went out into the world armed with iron. The girl who was later remade into a killer."
(pg. 45)
This action-packed steampunk Scottish fantasy is thrilling from beginning to end! Witnessing the tragic death of her mother has flipped Aileana's world upside down as something is awoken in her, and she begins the life of hunting down the Fae. Stuck between the conformities of the period society, and living the life of being able to see, and kill faeries, Aileana finds out she is more than a girl out for simple revenge; she's a Falconer.
"I feel sorry for him, for all of them. They think I'm the only monster in their midst, but the real danger is the one they can't even see. Faeries can select their victims and compel them with a small push of mental influence, then feed from them and kill them." (pg. 12)
Aileana does, however, keep a couple of the Fae close in favors. Derrick, a pixie, lives in Aileana's dressing room and mends her clothes for honey, but he definitely becomes more prominent throughout the book. Kierran MacCay instructs Aileana in combat and teaches her about the fae along the way. He becomes even more prominent as the book progresses and emotions run high. I absolutely love them both, even if they can be a bit difficult at times. As she closes in on the baobhan síth, the faery who killed her mother, a more urgent matter arises as it's discovered the Fae from the underground jail is escaping to kill and takeover everything because of a weakening seal. Only a Falconer can re-implement the seal, and Aileana is the only Falconer left.
"Sensitive humans and seers have more energy to take than a normal human." (pg. 41)
I absolutely love the writing! It's such a page turner, and you can tell that Elizabeth May truly researched and cared for her craft. I love how well thought out the characterization of Aileana and how the world around her shapes her mind to become more independent and less oppressed than the other ladies of her time. I really got a feel for the environment and the strict society standards.
"I make my choice. The same one I'll always make. I choose survival. I choose the hunt. Because Father would tell me, Duty first, and this is my duty." (pg. 170)
Through all the excitement of the battles, alas we a left with a major cliffhanger! I feel like it stopped mid-denouement and it actually makes it even more thrilling, even if I have to wait another year for the next book. I'll be marking my calendar and eagerly waiting with open arms for the next book in this mystical series!
First Line: "I've memorized their every accusation: Murderess. She did it. She was crouched over her mother's body, covered in blood." (pg. 1)
Last Line: "'You'll wish you had killed Kadamach when you had the chance.'" (pg. 378)
Galley provided by LibraryThing via Chronicle Books
*Quotes are from uncorrected advanced galleys and may change before going to press. Please refer to the final printed book for official quotes.