The One (The Selection #3)
by
Kiera Cass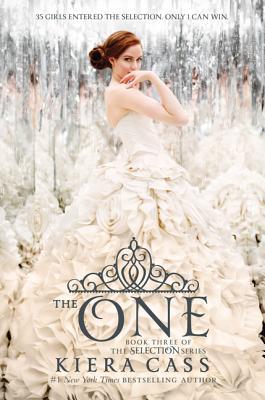 Official site
 | 
Goodreads
 | 
Twitter
Format:
Hardcover, 323 pgs.
Published:
May 6th 2014 by Harper Teen
Genre:
YA, romance/dystopian
Amazon
|
Kindle
|
Book Depository
"The Selection

 changed America Singer's life in ways she never could have imagined. Since she entered the competition to become the next princess of Illéa, America has struggled with her feelings for her first love, Aspen—and her growing attraction to Prince Maxon. Now she's made her choice . . . and she's prepared to fight for the future she wants.





Find out who America will choose in 

The One, the enchanting, beautifully romantic third book in the Selection series!" -goodreads
Review
"The only way to set things right was to end the Selection."
(pg. 6)
Thank goodness for this final installment saving the series for me! Although I was not all that enthused with The Elite (The Selection #2) I felt like the series did a 180 and got back on track with The One as it got more serious, less gushy, and America was more bold.
America! I'm so proud that she finally realized that being in the middle of a poorly fulfilled love triangle isn't the most important thing to fret over! In The One, she takes charge, and although she doesn't have the best laid out plans, her natural ability to do the right, and just, thing under pressure is golden. I feel like something happened in between The Elite and The One, because in this book she's really quite definite about her own selection decision, and every now and again she has to remind herself to let the other guy down. I feel like she could have easily nipped that in the bud early on, but understood that it was necessary to keep a different type of suspense going throughout the book.
"I wasn't afraid of the king. Or the rebels. I knew how much Maxon meant to me, and I was sure that it was all going to work, somehow."

(pg. 86)
I loved the suspense of the rebels, and how the changes in Illéa were progressing. Adding elements of grief, action and anxiety greatly contributed towards my satisfaction with The One. You could feel the tension between King Clarkson and America! He continues to put America in compromising situations and just sits back and smiles at his plans. Even though times seemed unbearable, embarrassing and down-right humiliating, America stood her ground and I'm pleased she never gave up, or in. The whole thing seemed a little fast paced, though, and that was probably an effort to redeem what was lost in the previous book. I also felt that, although I was all smiles with outcome of the novel, it was very predictable and for these reasons alone, is why I gave it four stars.
"Maybe Maxon did love me, but if he wasn't man enough to say it out loud, then how could he ever protect me from the most frightening thing in my life: his father."

(pg. 212)
The Selection series started off with a bang, fizzled a little in the middle, but then blazed  up in the end. If you were frustrated with The Elite, I plead that you go ahead and finish off the series with The One! You won't be disappointed!
-------
First Line: "This time we were in the Great Room enduring another etiquette lesson when bricks came flying through the window." (pg.1)
Last Line: "It's so much more than that." (pg. 323)