Princess of Thorns
by Stacey Jay
Official Site | Goodreads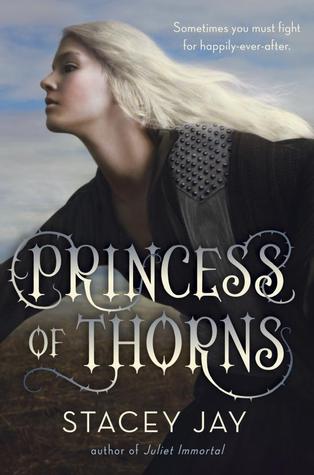 Format:
Kindle/ ARC
Published:
Dec. 9th 2014 by Delacorte Press
Genre:
Fairytale Retelling/Fantasy, Young Adult
Amazon
|
Kindle
|
Book Depository
|
B&N
|
Nook
"Game of Thrones meets the Grimm's fairy tales in this twisted, fast-paced romantic fantasy-adventure about Sleeping Beauty's daughter, a warrior princess who must fight to reclaim her throne.



Though she looks like a mere mortal, Princess Aurora is a fairy blessed with enhanced strength, bravery, and mercy yet cursed to destroy the free will of any male who kisses her. Disguised as a boy, she enlists the help of the handsome but also cursed Prince Niklaas to fight legions of evil and free her brother from the ogre queen who stole Aurora's throne ten years ago.

Will Aurora triumph over evil and reach her brother before it's too late? Can Aurora and Niklaas break the curses that will otherwise forever keep them from finding their one true love?

" -

Goodreads
Review: (May contain spoilers)
"Mama wouldn't let the fairies bless me when I was born—she said it was too dangerous, that fairy blessings, no matter how well intended, too often become curses."
(Pg. 5)
This is a fairytale re-imagining as we journey with Aurora to save her brother and the kingdom from evil tyrannical ogres.



"Bravery isn't the absence of fear but the willingness to stay the course in spite of it." (Pg. 240)



Although the prologue was quite confusing, the beginning of the book started off well and makes more sense as it goes on. Even if Aurora could only prove her strength and respect by masquerading as a boy, by the end of the book, she may have gained other's respect, but she completely lost mine.
More than anything Niklaas' personality flaws immediately had me hoping Aurora wouldn't fall for him. It was frustrating, not only reading how he talks about women, his "track record" with women, and his ego, but reading how Aurora still falls for him. This for me proved that she may not be the sharpest tool in the shed, and I generally just lost all interest in continuing the story. It took awhile, but I decided to start reading it again just so I could finish and go over my thoughts with it (I was also secretly hoping that it would redeem itself in the end.) Needless to say, the book ended weird as it felt like the author rushed it. This is especially frustrating when you realize how detailed and how long their journey was throughout the book.



"I'm sure Mama didn't intend for my kiss to steal away the free will of the boys I love—she said herself that fairy blessings have a way of becoming curses.…" (Pg. 54)



In all, I loved the idea or Aurora being a strong female protagonist, even if she was masquerading as a boy, but it all fell apart when she started falling for Niklaas. I absolutely love the author's writing and how she sets a scene before her readers, but I didn't feel like Aurora did anything to prove that she would be capable of ruling a kingdom in this love story dressed up as a faerie fantasy.
----------
Galley provided by Netgalley via Random House Children
*Quotes are from uncorrected advanced galleys and may change before going to press. Please refer to the final printed book for official quotes.