Art in the Blood: A Sherlock Holmes Adventure
by Bonnie MacBird
Official Site | Goodreads | Twitter | Facebook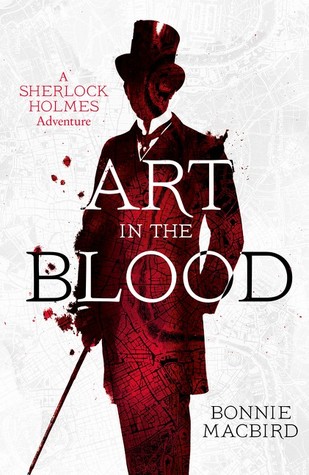 Format:
Kindle/ ARC
Published:
 Oct. 6th 2015 by Collins Crime Club
Genre:
 Mystery
Amazon
|
Kindle
| 
Book Depository
  |
B&N
 |
Nook
"London. A snowy December, 1888. Sherlock Holmes, 34, is languishing and back on cocaine after a disastrous Ripper investigation. Watson can neither comfort nor rouse his friend – until a strangely encoded letter arrives from Paris.

Mlle La Victoire, a beautiful French cabaret star writes that her young son has vanished, and she has been attacked in the streets of Montmartre.

Racing to Paris with Watson at his side, Holmes discovers the missing child is only the tip of the iceberg of a much larger problem. The most valuable statue since the Winged Victory has been violently stolen in Marseilles, and several children from a silk mill in Lancashire have been found murdered. The clues in all three cases point to a single, untouchable man, an art collector seemingly beyond reach of the law.

Will Holmes recover in time to find the missing boy and stop a rising tide of murders? To do so he must stay one step ahead of a dangerous French rival and the threatening interference of his own brother, Mycroft.

This latest adventure, in the style of Sir Arthur Conan Doyle, sends the iconic duo from London to Paris and the icy wilds of Lancashire in a case which tests Watson's friendship and the fragility and gifts of Sherlock Holmes' own artistic nature to the limits.

" -

Goodreads
Review:
"'There is great evil where we are going; you sense it and you are correct. Be at all times on your guard.'" (loc. 1540)
In this Sherlock adventure, we are on the hunt again as John Watson, in true Arthur Conan Doyle style, gives us an account of the newest and most harrowing case.
I wanted to read this because I absolutely love mysteries and what's a better way to sate my appetite than a Sherlock tale? This story did not disappoint, as it had a wonderfully thrilling pace, while remaining true to it's time in history. I loved how the authenticity of the novel was replicated from Doyle and used to influence the author's writing style. Not only was it the writing style that made it feel like an original tale, but also the different mannerisms displayed that characterized the original Sherlock and Watson. With Holmes' vulnerability to drugs, his feigned disinterest in women, and knack for disguises, I felt Art in the Blood effectively used provenance to familiarize it's audience with the classics.



"I have always held that life with Holmes is a bit like walking across a suspension bride that hangs from ropes over a jungle chasm. The adrenalin may be invigorating, but one never knows what lies beneath, and one is constantly in danger of losing one's footing." (loc. 1253)



The only thing that I found upsetting in the novel was the subject matter involving the children. It felt like déjà vu, from when I read a couple previous Sherlock tales by other authors with the exact same situation (which made me not want to finish those books,) and I was wondering why so many authors feel the need to rehash this same tale. I'm glad to say that the subject wasn't as pronounced as in the other stories I've read, and it was just limited to bare essentials needed to pair with the mystery.
In all, I found this book fascinating both from it's mystery and it's delivery. There were bits of humor, sarcasm, and even little hiccups along the way to lead it's reader's through it's thrilling chapters. I would more than recommend this book to any original Sherlock Holmes fan, and I'm definitely looking forward towards reading more from this author.
----------
Galley provided by Edelweiss via Harper Collins 360
*Quotes are from uncorrected advanced galleys and may change before going to press. Please refer to the final printed book for official quotes.