This set of Mini Reviews contain reviews for The Photograph by Beverly Lewis, Illuminae (Illuminae Files #1) by Amie Koffman and Jay Kristoff, and The Dirt on Ninth Grave (Charley Davidson #9) by Darynda Jones
The Photograph
by Beverly Lewis
Official Site | Goodreads | Facebook
Format:
Kindle/ ARC
Published:
 Sept. 8th  2015 by Bethany House
Genre:
 Christian Lit, Amish
Amazon
|
Kindle
|
B&N
"Eva Esch and her sisters are in a predicament. With the passing of their widowed mother, Eva's older brother plans to move his growing family into the Eden Valley farmhouse where they all grew up, leaving little room for his three single sisters. Unless they marry within the year, the only apparent option is for two sisters to go to Indiana to live with an elderly great aunt. Eva hopes to be married, but she isn't sure she wants to give up her sweet shop for the life of a farmer's wife. And she can't see how her prospects would be any better in Indiana.

When younger sister Lily disappears in the night, leaving only a brief note, Eva fears she has been wooed away from the People by an outsider. And when Jed Stutzman, a young Amish buggy maker from Ohio, shows up at Eva's market stand in Lancaster with a photo of a Plain young woman, Eva's world begins to tilt." -goodreads
Review:
The title itself foreboding as to the tone of the novel. Having your photograph taken is not looked upon kindly in the Amish community and goes against the Ordnung, however, this taboo thing can also bring people together and discover love.
An Amish family is going through rapid changes as they are orphaned and must find a way towards happiness and to survive on their own. However they are forced to move on faster than expected which rattles the girls and sends one packing, looking for a wayward life. Can a stranger with an unusual finding bring the family back together again?
The photograph was very intriguing as the mystery to Lily's whereabouts unfold. I found this to be a nice break from Beverly Lewis' recent book patterns, which were getting monotonous. I enjoyed the thrill of this book and getting acquainted with new characters and reacquainted with some of the old.
----------
Read: Sept. 26th 2015
Galley provided by Bethany House via Netgalley
--------------------------------------------------------------------------------
Illuminae (The Illuminae Files #1)
by Amie Kaufman and Jay Kristoff
 Goodreads | Goodreads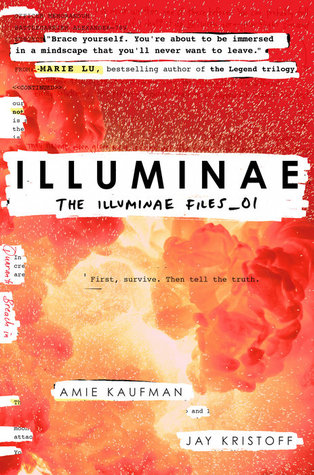 Format: 
Kindle/ ARC
Published:
 Oct. 20th  2015 by Knopf Books for Young Readers
Genre:
  YA lit, Sci-Fi
Amazon 
| 
Kindle
 | 
B&N
"This morning, Kady thought breaking up with Ezra was the hardest thing she'd have to do.

This afternoon, her planet was invaded.

The year is 2575, and two rival megacorporations are at war over a planet that's little more than an ice-covered speck at the edge of the universe. Too bad nobody thought to warn the people living on it. With enemy fire raining down on them, Kady and Ezra—who are barely even talking to each other—are forced to fight their way onto an evacuating fleet, with an enemy warship in hot pursuit.

But their problems are just getting started. A deadly plague has broken out and is mutating, with terrifying results; the fleet's AI, which should be protecting them, may actually be their enemy; and nobody in charge will say what's really going on. As Kady hacks into a tangled web of data to find the truth, it's clear only one person can help her bring it all to light: the ex-boyfriend she swore she'd never speak to again.

Told through a fascinating dossier of hacked documents—including emails, schematics, military files, IMs, medical reports, interviews, and more—Illuminae is the first book in a heart-stopping, high-octane trilogy about lives interrupted, the price of truth, and the courage of everyday heroes." -goodreads
Review:
"I WONDERED AT THE FUTILITY OF IT. IF IT IS THE DEFINITION OF INSANITY TO REPEAT THE SAME PROCESS AND EXPECT A DIFFERENT OUTCOME, MOST OF HUMANITY MUST BE INSANE." (pg. 278)
Illuminae literally takes you on a ride from start to finish! Although a bit slow and tough for me at first, I gradually dove into it when the action really picked up and I couldn't get enough of Kady and Ezra's adventures. This book was a great fusion of galactic science fiction and apocalyptic rage with a sassy romance threaded throughout.
"Sure the story kicks off with the deaths of thousands of people, but god forbid there be cussing in it, right?" (pg. 1)
Told in a unique style of files, email's and the AIDAN, you get a good grasp on things once you get used to it. I learned to both hate and love AIDAN and the story as it felt like Resident Evil meets Ultron. With a combination of militant action, suspense, a possible viral outbreak and space zombies, this book definitely had the best plot twist I've read all year as I really couldn't have guessed that would happen. Great thrill and action to keep the reader's attention. A great sci-fi book that truly gives you a unique reading experience. This was not only the best sci-fi I've read, but one of the best books I've read this year and I can assure you I'll be reading the rest of the illuminae files in this series! I cannot wait!
"Who will remember the ghosts of Kerenza?"
----------
Read: Oct. 9th 2015
Galley provided by Random House Children's via Netgalley
*Quotes are from uncorrected advanced galleys and may change before going to press. Please refer to the final printed book for official quotes.
--------------------------------------------------------------------------
The Dirt on Ninth Grave (Charley Davidson #9)
by Darynda Jones
Official Site | Goodreads | Facebook | Twitter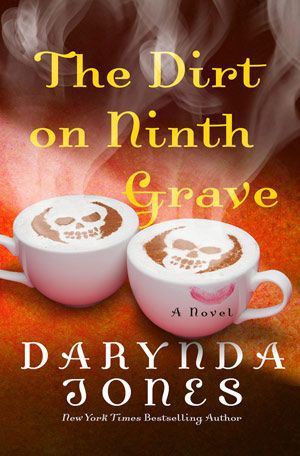 Format: 
Kindle/ ARC
Published:
 Jan. 12th  2015 by St. Martin's Press
Genre:
  Adult lit, Urban paranormal/ mystery
Amazon 
| 
Kindle
 | 
B&N
"In a small village in New York lives Jane Doe, a girl with no memory of who she is or where she came from. So when she is working at a diner and slowly begins to realize she can see dead people, she's more than a little taken aback. Stranger still are the people entering her life. They seem to know things about her. Things they hide with lies and half-truths. Soon, she senses something far darker. A force that wants to cause her harm, she is sure of it. Her saving grace comes in the form of a new friend she feels she can confide in and the fry cook, a devastatingly handsome man whose smile is breathtaking and touch is scalding. He stays close, and she almost feels safe with him around.

But no one can outrun their past, and the more lies that swirl around her—even from her new and trusted friends—the more disoriented she becomes, until she is confronted by a man who claims to have been sent to kill her. Sent by the darkest force in the universe. A force that absolutely will not stop until she is dead. Thankfully, she has a Rottweiler. But that doesn't help in her quest to find her identity and recover what she's lost. That will take all her courage and a touch of the power she feels flowing like electricity through her veins. She almost feels sorry for him. The devil in blue jeans. The disarming fry cook who lies with every breath he takes. She will get to the bottom of what he knows if it kills her. Or him. Either way." -goodreads
*SIDENOTE: IF YOU HAVE NOT READ THE PREVIOUS BOOKS, DON'T READ MY REVIEW AS IT MAY CONTAIN SPOILERS*
Review:
"I see dead people. No wait. I take that back. I see people I want dead.
—eCard"
In our continuation of the Charley Davidson series, the Dirt on the Ninth Grave takes us from when Charley lost her memory in the end of eighth grave.
I felt like this book was much needed, as it felt like it refreshed the series for me; like it got back to the basics that I loved about the earlier books in the series. I enjoyed meeting Janey Doer and loved how she "met" our original gang, as well as how her personality remained the same. This book also shows that despite everything that's been happening, Charley and Reyes were meant for each other. As always this book was humorous, but I loved the hostage mystery as well. That's what I missed most about this series, the great mysteries, before everything turned super sci-fi paranormal on us.
I very much enjoyed the tension and sense of thrill as we read on and see clues that would hopefully re-jog "Janey's" memory. Although the ending didn't end with as big of a cliffhanger as previous books, I'm looking forward to Tenth Grave to see how the issue that's arrived can be resolved.
----------
Read: Jan. 12th 2015
Galley provided by St. Martin's Press via Netgalley