An Ember in the Ashes
by Sabaa Tahir
Official Site | Goodreads  | Twitter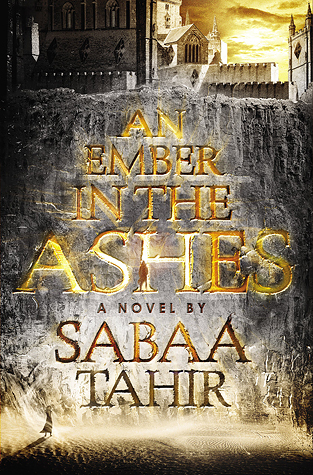 Format:
Kindle/ ARC
Published:
April 28th 2015 by Penguin Teen
Genre:
 YA lit, Fantasy
Amazon
|
Kindle
| 
Book Depository
 |
B&N
"Set in a terrifyingly brutal Rome-like world, An Ember in the Ashes is an epic fantasy debut about an orphan fighting for her family and a soldier fighting for his freedom. It's a story that's literally burning to be told.

LAIA is a Scholar living under the iron-fisted rule of the Martial Empire. When her brother is arrested for treason, Laia goes undercover as a slave at the empire's greatest military academy in exchange for assistance from rebel Scholars who claim that they will help to save her brother from execution.

ELIAS is the academy's finest soldier—and secretly, its most unwilling. Elias is considering deserting the military, but before he can, he's ordered to participate in a ruthless contest to choose the next Martial emperor.

When Laia and Elias's paths cross at the academy, they find that their destinies are more intertwined than either could have imagined and that their choices will change the future of the empire itself." -goodreads
Review:
"Four they are, and four traits we seek:
Courage to face their darkest fears
Cunning to outwit their foes
Strength of arms and mind and heart
Loyalty to break the soul."
(pg. 129)
Here we are given an interesting fantasy with a unique setting of ancient Rome. In the point of views of two distinct citizens, Laia and Elias, we are shown the plight of the society as a foretold reckoning is in the midst.



"'The foretelling is truth. A truth you will soon face. You seek to run. You seek to abandon your duty. But you cannot escape your destiny.'" (pg. 65)



A large trigger warning should be in place first because this book contains an immense amount of mentions, allusions and references to rape and abuse. I found it, mostly, really unnecessary because it did nothing for the plot, but I guess the author's intent was to use these as a way of showing the violent and horrible nature of the empire.



"All the beauty of the stars mean nothing when life here on earth is so ugly." (pg. 221)



Mostly what I loved about this book is that it was reminiscent of my favorite Harry Potter book, The Goblet of Fire. The trials reminded me of the different tournaments in Harry Potter, but they went by so fast and it was so short lived that it left me wanting more of the thrill of competition. I love the suspense that keeps you going throughout An Ember in the Ashes, and how Laia and Elias are focused on their own goals. Laia's main goal is to save her brother from torture and death when he is captured by the empire, and Elias is trying to escape the empire and it's ferocious nature. Both are the embers in the ashes, so to speak, that may contribute towards a change to society, but whether a positive or negative change remains to be seen.



"'You are an ember in the ashes, Elias Veturius. You will spark and burn, ravage and destroy. You cannot change it. You cannot stop it.'" (pg. 65)



Although I understand the importance of having two different point of views, I enjoyed Elias' more, as he seemed more determined and interesting. The scenes were greatly described in words, but it felt pretty difficult for me to grasp an image in my head of what was going on. I suppose I wanted the setting to be more shown to me, than described.
I believe that far too much was trying to be packed into this book and that the book should've been longer for things to be more elaborated upon or some of the things could've been cut out. Topics such as the supernatural being, felt merely touched upon and I would've appreciated more information, so as to obtain a better understand of them. I wanted to understand their appearances, what evils they bring, how they contribute to the plot/ story, or society and their relation to each other, but I felt left in the dark.
In essence, I love the thrill and suspense of the competition and the unique setting, but the saturated rape and abuse allusions were off-putting and the plot was not as held together as I would've liked. The author has a beautiful writing style, so I would not be opposed to reading other books of her's, especially in the fantasy realms. I look forward to reading more, and hope that, if there is a next book in this series, the problematic flaws I saw will be resolved.
----------
Galley provided by Penguin Teen
*Quotes are from uncorrected advanced galleys and may change before going to press. Please refer to the final printed book for official quotes.