Famous Last Words
by Katie Alender
Official Site | Goodreads | Facebook | Twitter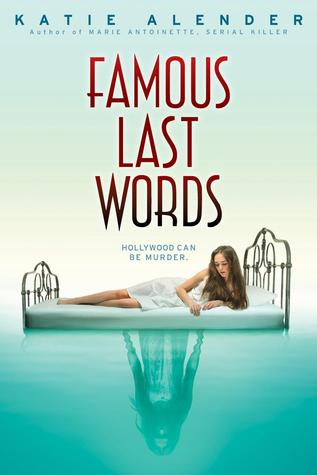 Format:
Kindle/ ARC
Published:
 Sept. 30th 2014 by Scholastic
Genre:
 YA, Mystery/Paranormal
Amazon
|
Kindle
|
Book Depository
"Willa is freaking out. It seems like she's seeing things. Like a dead body in her swimming pool. Frantic messages on her walls. A reflection that is not her own. It's almost as if someone -- or something -- is trying to send her a message.

Meanwhile, a killer is stalking Los Angeles -- a killer who reenacts famous movie murder scenes. Could Willa's strange visions have to do with these unsolved murders? Or is she going crazy? And who can she confide in? There's Marnie, her new friend who may not be totally trustworthy. And there's Reed, who's ridiculously handsome and seems to get Willa. There's also Wyatt, who's super smart but unhealthily obsessed with the Hollywood Killer.

All Willa knows is, she has to confront the possible-ghost in her house, or she just might lose her mind . . . or her life.

" -

Goodreads
Review:
"It takes a lot to scare me, I've discovered."
(loc. 2777)
Such a chilling book! I drove through this book so fast, I would love a sequel! Famous Last Words takes on the concept of the movie Gothika and maneuvers it into the YA genre with hauntingly ease.
A serial killer is going throughout Hollywood killing and staging young aspiring actresses, and try as they might, the police can't get of a grasp on who it might be. Willa, who has recently dabbled in summoning rituals to get in contact with her dad, just moved to L.A. and is gradually haunted by a spirit. Is this spirit connected to these murders? What are they trying to tell Willa? Willa must learn to live with this ghost and put up with their threats and alarming antics.



"Maybe it's human nature to be drawn to the things that have hurt us the most." (loc. 1803)



I greedily read through this book, even though I had figured out who the murderer was really early on. I'm not sure if this was because I'm a huge mystery buff, or not, but the author sustained my interest with great plot twists and wonderfully imaginative scenes. Famous Last Words is a loving marriage of mystery and the paranormal, which when done right, wins my vote.



"I'd thought having a ghost in the house was scary. But that didn't compare with the paralyzing fear of her having abandoned me." (loc. 2544)



This book was a great fast-read full of thrilling suspense, mystery, and a horrible haunting. If you love these elements in movies like Gothika and books by Stephen King, you'l go wild for these elements put in a YA twist.
---
First Line: "Nothing glittered." (loc.18)
Galley provided by Netgalley via Scholastic
*Quotes are from uncorrected advanced galleys and may change before going to press. Please refer to the final printed book for official quotes.