The Young Elites
(The Young Elites #1)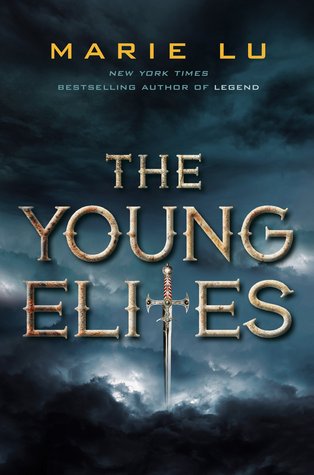 by
Marie Lu
Official Site | Goodreads | Twitter | Facebook
Format:
Kindle/ ARC
Published:
Oct. 7th 2014 by Putnam books, Penguin
Genre:
YA, Fantasy
Amazon
|
Kindle
|
Book Depository
"I am tired of being used, hurt, and cast aside.

Adelina Amouteru

 is a survivor of the blood fever. A decade ago, the deadly illness swept through her nation. Most of the infected perished, while many of the children who survived were left with strange markings. Adelina's black hair turned silver, her lashes went pale, and now she has only a jagged scar where her left eye once was. Her cruel father believes she is a malfetto, an abomination, ruining their family's good name and standing in the way of their fortune. But some of the fever's survivors are rumored to possess more than just scars—they are believed to have mysterious and powerful gifts, and though their identities remain secret, they have come to be called the Young Elites.



Teren Santoro

 works for the king. As Leader of the Inquisition Axis, it is his job to seek out the Young Elites, to destroy them before they destroy the nation. He believes the Young Elites to be dangerous and vengeful, but it's Teren who may possess the darkest secret of all.



Enzo Valenciano is a member of the Dagger Society.

 This secret sect of Young Elites seeks out others like them before the Inquisition Axis can. But when the Daggers find Adelina, they discover someone with powers like they've never seen.





Adelina wants to believe Enzo is on her side, and that Teren is the true enemy. But the lives of these three will collide in unexpected ways, as each fights a very different and personal battle. But of one thing they are all certain: Adelina has abilities that shouldn't belong in this world. A vengeful blackness in her heart. And a desire to destroy all who dare to cross her.



It is my turn to use. My turn to hurt." -Goodreads
Review:
"I belong to no one. On this night, I swear to you that I will rise above everything you've ever taught me. I will become a force that this world has never known. I will come into such power that none will dare hurt me again."
(18)
In a time long forgotten, in a land beyond history, an illness has hit a nation and left a mark in it's wake. The Blood Fever has caused carnage of both the rotten and supernatural variety.
The Young Elites by Marie Lu plays off of the fear of anything different from ourselves, with those who embrace these differences and those who despise them. In other words, it's modeled after our very own societies. The one's who are left marked by the fever are Malfettos, of which within this sector are those left with elemental and fantastical powers. These are the Elite.
"People said they could conjure fire out of thin air. Could call the wind. Could control beasts. Could disappear. Could kill in the blink of an eye." (7)
Adelina is among them. After the Blood Fever leaves her motherless and marked with unnatural silver hair and a scar where her left eye used to be, she grows up physically and emotionally abused by her father, and second best next to her younger sister Violetta. She soon finds that she may not just be another Malfetto, and is introduced to the Dagger Society, of whom she must gain their trust and their strength. What she does not know is that she may be the most powerful one of them all. Can Adelina put her past behind her, and gain confidence? Can she become a Dagger without putting her sister in danger? With fear and pain as her fuel, can Adelina ever find happiness... or does it lead a path of destruction?
"My darkness is a building storm, black as the sky, the threads wound tight with tension and filling every crevice of my mind." (163)
The author plucks you from your chair and guides you through the lands of Kenettra. She does a marvelous job of setting the scene! I remember back when my English professors would say to  "Show, not tell!" and this books is a great example of this concept. The scenarios and characters are set before us to explore and I felt like I was actually there, walking beside Adelina and feeling her emotions. To me, especially in a fantasy, this is a necessity.
Combined with the great descriptions we are given a tragic hero protagonist, an adventurous action-filled plot, and multiple point of views to better understand and go into more depth with the different characters' storyline. The characters are given a voice and it personifies them just that much more. Don't believe me? Read all the way through the Epilogue, and I guarantee you will feel the character shift.
From the development of Adelina to the plot twists, The Young Elites is full of surprises! It became increasingly harder to put the book down, as I entered the realm of the "just one more chapter" mantra. You will root for Adelina, then question her choices; you'll smile in triumph and gasp in horror. You'll be left enraptured!
I, for one, am extremely excited for whatever is to come next. This book has been the best book I've read all year, without a doubt! If you've enjoyed fantasies like The Grisha Trilogy and The Throne of Glass series, you'll want to put The Young Elites at the top of your TBR list!
"I sense something unusual shifting in the wind, and am most anxious to study this effect." (prologue)
----
Galley provided by the publisher
*Quotes are from uncorrected advanced galleys and may change before going to press. Please refer to the final printed book for official quotes.